The growing popularity of online videos has opened the doors to unlimited possibilities for non-static images in website design. One particular trend that has taken the industry by storm is web animation. Animating specific elements of a site has the potential to grab visitor attention, boost engagement, ensure higher conversions, and increase sales.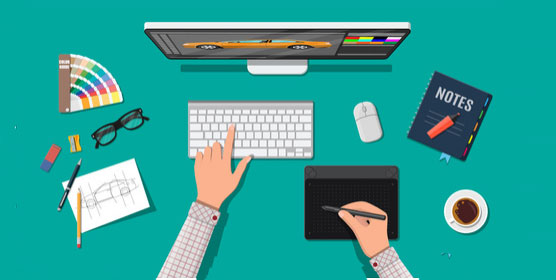 You mustn't create а website that merely looks good – it must be relevant to your company. Without professional assistance, this is a difficult task. Unless you have a web design department in your company, you should seriously consider hiring a web design agency. There are quite a few web design companies out there that are able to provide you with outstanding services and build a site that will help you get the most out of your business. Because no modern business can succeed without a proper website, creating one is critical – not only for now, but for the long run also.
When you find a web design agency you trust, immediately discuss all the possible techniques to convey your business message as effectively as possible. Web animation will inevitably be brought up. Therefore, we are going to review some of the exciting advantages of adding animation to your site, and how to tap into this marketing bonanza to boost your brand's online presence.
Animation Helps Capture and Hold Visitors' Attention 
User engagement is difficult to secure when everyone is constantly inundated with entertainment. The average internet user interacts with countless brands daily. Cutting through the noise and making your company stand out is no small accomplishment. Catchy animations are one way to capture user attention and keep them interested from the very moment they land on your site. A moving, brightly colored element will instantly draw attention to the content of the website. The more unusual and fascinating the animations, the more your website will stand out. 
According to research, you have only half a minute to make a positive impression upon your site's visitors. That's barely any time at all to let the users see something they'd enjoy and would want to keep reading or viewing. Plus, animation can become a great UX design technique to make better first impressions and improve click-through rates. If you can grab the user's attention with some great animation, you give them a motive and incentive to stay on your site and browse through it. 
Animation Helps Boost User Engagement 
Animations are also a perfect tool for increasing user engagement with your brand. Animating site elements such as the navigation menu or call-to-action buttons often prompts users to click, review, and stay on the particular page you want them to. Adding animations to a website with intent can help illuminate a webpage and engage with its visitors to get lower bounce rates. You can incorporate animations into product descriptions, site scrolling configurations, picture slideshows, or the background of the entire website, to get a more engaging site overall. 
Smart use of animations can guide the user through your sales funnel. By using animated videos, you can bring your services or products to life, show the steps that the user needs to take to complete the transaction, and convey messages to get your point across to the audience. There's a place for animation at each sales funnel stage: to attract the user to click on the website link, to nourish the user experience as the user becomes a potential client, and then to convert them into a paying customer. The simple incorporation of animation will help users go through the sales funnel and not bounce before getting to your site's last stage. 
Animation Helps Hide Slow Loading Times 
In this age of immediate satisfaction, Internet users are less likely than ever to wait for a site to load. There is an infinite number of statistics detailing the risks of slow loading times. For example, one study showed that 30% of survey participants would leave a page after waiting six to ten minutes for it to load. A one-second delay can reduce user satisfaction by up to 16%. 79% of shoppers stated they are not as likely to purchase from a website again after being frustrated with loading time and website performance.
You can hide the waiting time via original animation. Protecting waiting times is one of the earliest uses invented for animated components. Animation influences the user perspective on their particular situation. Animation can shift a customer's mood from annoyed to amused quickly. In this best-case scenario, you will have no lag time and an engaged visitor. In the worst-case scenario, the visitor will have something to watch while waiting. 
Animation Helps Customize Website Content 
The term "custom" has always been a keyword for web design, but for the past couple of decades it has functioned more as an objective  in UI/UX design. Millennials want things personalized wherever a firm can provide it, from tailored ads to unique website images. Adding custom animations that fit your brand image and business goals to your site can provide your site visitors with a perspective on the things your organization has to offer that your competitors don't. 
Website personalization takes user data and uses it to provide each of them with customized user experiences. Combining site personalization with appealing animations lets marketers create a unique advertising experience that may give an ultimate boost to your business. You and your agency would be able to collect and analyze user data and then take advantage of the insights to create animations that are most appropriate for the needs of individual users. This personalization level is just what the modern-day user wants from a business that wants to convince them it cares about them. 
Animation Helps Boost Ecommerce Sales 
Animations are closely associated with eCommerce because internet shoppers like getting exciting and interactive experiences from companies they buy from. Incorporating animations to your website can help create something, like a small game, for instance, thus helping you to get a hold of potential buyers and keep them on your site for a more extended period. Establishing a link between your brand and website visitors via animated gamification can become the exact thing that distinguishes your website from the competition. 
One of the ways to use an animated game is to inquire about user data before providing access to the game part. Ask visitors to submit their information as they start the game. It may also be an introduction to some of your e-commerce offers by using animations that look like your products or services. Animated games are intriguing, fun, and helpful tools for bonding with your audience and obtaining vital user information. 
Conclusion 
Animating a website can mean a great multitude of things, including adding several hover effects to creating full-screen, high-end moving graphics. Your choice should be based on the animation type that will serve your purposes best. As a result of technological progress, incorporating animations into websites has become one of the most frequently used techniques. Today, it's a practical and straightforward feature that boosts user engagement and conversion rates. 
And before you decide what animations will suit you and your brand, you should focus on finding a reliable web design agency. Because there are countless sites on the internet and each of them wants to attract its share of the global audience, your website has to seriously stand out in the crowd. It's crucial that your particular target audience can easily distinguish it from any of your competitors. Trust your web design agency to research your niche, potential, and audience and then move on to develop an incredibly useful and prominent website that will pull your brand into the top positions on search engines.