PHP is one of the widely used programming languages, and millions of websites are running over it. On different sites, different types of PHP scripts are used to carry out current tasks. It is not necessary that you must have a particular PHP script code in your database, and you need that code badly. In that case, you need to look for outside help to buy PHP script. Fortunately, there are so many market places and websites which sell different type of PHP scripts.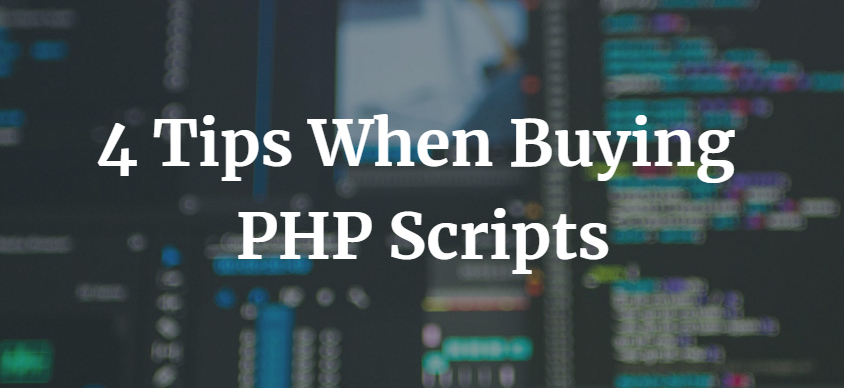 Since the code will be used on a live website, you need to be dead sure about the authenticity of the PHP script before adding them to the existing code. Else your website might be in trouble. So here are some of the tips which you should follow when you look for buying PHP scripts.
Detailed Tutorial – Before buying any php script, you should look for a tutorial & user guide. This will help you in understanding the working process and its compatibility with your existing code. With a detailed tutorial, you can check how the script will work and how you can use it in your different modules. This tutorial will also help you in distributing your development team so that every once can get the idea about the working.
Testing Bug Report – Before buying a PHP script, you should ask from the seller about the bug report that the script is working fine, and it is compatible with your existing code. As a developer, you don't want to get glitches once you start using that code, so it's better to ask a complete big free report from the seller and check that report from your end as well before using it on live code.
Free Trail – Although not every seller will provide you free trail still, you should ask your seller to provide a free trail in case you are dealing with a costly script. This will give you're a fair idea of how the script is working with your code, and it is fulfilling your requirements of not.
If the trial version is working fine, then you can always go with a full paid version with all the features and backup.
After-sale Support – This is the area where most of the people face the issue because once you paid the amount to the seller, he has no liability from your end.  Hence it is essential to check the post-sale support system of the seller. This will help you in dealing with any unwanted error and bug which come while using it on live website or software.
This will also help you get a small patch release that every seller release when they receive reviews from the users, and a particular issue is informed by the users on a large scale.
Above the four important PHP buying tips which you should always follow to get the full value of our money and this will ensure that your existing website or software will not develop any unwanted error.