When we talk about promoting a business, brand, or website, the best way to do so is via digital marketing. At the start of 2022, more than 4.95 billion people, or over 62.5% of the world's population, are active users of the internet. So naturally, it is considered wise to promote your brand directly to this population through the medium they are most active on. That's why almost every start-up, SME, and MNC hires eCommerce experts to promote every new product or service in their store through eCommerce SEO services.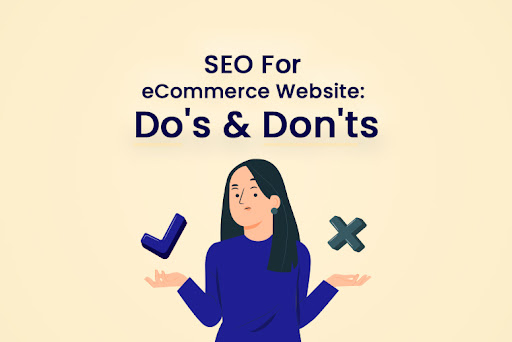 If you are new to eCommerce SEO stuff, you should know what you should concentrate on and what you should never do to ensure you have the best outcomes. But first, you need to understand what eCommerce SEO is.
eCommerce SEO is a digital marketing process through which an online store can promote its products and services by making them more visible on the SERPs or search engine result pages. When you hire SEO experts, they ensure your web page ranks higher on the SERPs when someone searches for a product manufactured or sold by you. To make the best out of an eCommerce store, you should use the best marketing stack. eCommerce success hinges on your marketing stack, which includes a streamlined checkout process, relevant product recommendations, and timely email marketing.
Usually, when buying something, let's say a new phone, customers check out the reviews and offer on the internet. When that happens, it is always best to have your web page as high as possible on the SERPs because an average user is not likely to go beyond the first five pages.
So how does eCommerce SEO work? Almost every major search engine, including Google search, uses a combination of indexing, bots or crawlers, and highly-advanced algorithms to compile the search engine result pages. So when a user searches for anything specific, the algorithm goes through thousands, if not millions, of web pages, with similar content and lists the most relevant and accurate ones on the search engine results pages. It ensures the user gets what they are looking for in seconds.
As mentioned earlier, where your pages rank on the search engine results pages will have a direct impact on whether or not a user will visit your website. Let's say your website is in that coveted number-one spot; then, it is almost guaranteed that around 25% of people searching for the product will visit your website. But if your page is ranked at second or third spots, the click-through rate will slump to 15% and 11%, respectively, which might explain the importance of hiring the best white label digital marketing agency.
Dos & Don'ts Of eCommerce SEO
Now that you know what eCommerce SEO is, you should also understand what to focus on and what to never do in order to ensure you have the best outcomes.
Dos of eCommerce SEO
Here are the things you should do to improve the SERP rankings:
● Use Relevant Keywords
One of the first things anyone thinks of when talking about SEO is keywords. These are words or phrases with respect to a product or service that a user searches online. Let's see an example. If a user is looking to buy a television, they will search for something like "best television under 50000", "best OLED television in India," or "television stores near me." These are all considered keywords. So when promoting a product or service through eCommerce SEO, it is crucial to have a sense of all the best keywords relevant to the topic.
That's why you might want to hire the top white-label digital marketing agency, as it will conduct thorough keyword research and planning with the help of tools like KWFinder, Keywordtool.io, AlsoAsked, Keyword Explorer, Google Trends, Google Search Console, SERPStat, Keyword.io, Answer The Public, Ahrefs, SEMrush, Google Keyword Planner, Keywords Everywhere, etc.
● Optimize The Title & Meta Description
When you search for something on Google or any other search engine, a list of web pages appears on the search engine result page. Along with the link, you will see the title of the page. This title should be as catchy and informative as possible. Make sure you have the company and product name, along with the most relevant keyword in the title. When it comes to the meta description, you have a couple of lines to write the most accurate informative write-up about the web page's contents. So it is best to hire eCommerce experts with SEO experience to write the best title and meta description, as it can ensure a higher click-through rate and better traffic.
Moreover, if your already uploaded web page isn't performing well, you might try and optimize the title and meta description.
●     Optimize Image Alt Tags
As the expression goes, "A picture is worth a thousand words." It holds true even in the eCommerce industry. When looking to buy a particular product, a user will inevitably look for the best images. Now, even if your product looks amazing and you think it would be best for the customer, Google and the other search engines won't know that because they can't interpret images. But if you can get the most accurate description of the uploaded image through the ALT tag, it might stand a chance against the search engine crawlers. It might mean taking your page to higher rankings.
● Unique And Descriptive Product Description
When it comes to product descriptions, so many people write outrageously complicated and techy just because they think it will get their page ranked higher on the SERPs. But in reality, that should never be the case. Every search engine ranks a particular web page based on whether or not it will be helpful to the user.
So always try to describe the product or service with the customer or user in focus. Another thing to remember is to go for the quality of keywords rather than quantity. Instead of stuffing the keywords in the content, you should place the most relevant keywords strategically.
● Fast Loading Pages
In this fast-paced world, almost everyone has got ultra-high-speed internet in the palm of their hand. They are used to searching for anything they like and will get the results in just seconds. A few years ago, we used to think of Kbps and Mbps, but now the internet has reached Gbps speeds. However, as a result, this speed has made people a little impatient. So if your web page doesn't open in a handful of seconds, they might just skip to another alternative, of which there are many. That's why it is pertinent to ensure the page loading times are as quick as possible. For reference, Google recommends the page load times be under 2 seconds.
● FAQ Section
Often, the most informative and user-friendly part of any product-based web page is the FAQ section. Not only will the FAQs be informative, but they will also be excellent for the organic rankings. The main reason behind that is they can provide clear-cut information about the product or service and even answer the most "frequently asked questions" by the users. As we already mentioned, every search engine ranks a particular web page based on whether or not it will be helpful to the user. So, in that case, the FAQs can be excellent at boosting the rankings effectively, and that's why almost every major eCommerce development company suggests adding FAQs to the page to ensure a better click-through rate and ROI.
● Use Rich Snippets
You might have seen some google searches with additional information below the title tag and meta description. These might be the star ratings or average charges per person for restaurant searches. It might be reviews, preparation time, and even calorie counts for dish recipes. These kinds of information snippets can be extremely helpful to the readers. For an eCommerce store, these snippets can be the product pictures, prices, and customer reviews (along with the number of people who have reviewed the product). Besides providing more information, rich snippets add a little visual interest for the users. Rich snippets are one of the best ways to improve the click-through rate and increase traffic.
● Monitor Results Frequently and Adjust Accordingly
One of the biggest mistakes you may commit after uploading a web page is to sit back and relax, waiting for the "eggs to hatch." You must frequently monitor the search results and make appropriate changes. Regular editing would ensure a chance to get the page higher up in the rankings. That's why it is recommended you hire a popular white-label digital marketing agency for eCommerce SEO purposes. They will monitor some key metrics, including,
Organic traffic: This site traffic comes via unpaid channels like google searches instead of paid ads. Whatever the site traffic for your web page is will help you directly assess the success of the SEO.
Click-through rate: This term means the percentage of people who click on your web page link from the SERPs. A lower click-through rate would mean your title and meta description aren't catchy enough.
Conversion rate: This metric is about how many users who clicked on your link actually purchased something. Better CTAs (call-to-action) may improve the conversion rate.
Keyword rankings: Tracking the keyword rankings would help you determine which keyword insertions are working for your page rankings and which aren't. So you can replace the ones that are bringing your rankings down.
Bounce rate: This metric shows how many people are exploring your website rather than just the first page.
Site exit points: This KPI shows at what point most users click off of your website.
● Leverage Social Media
There's a famous saying that goes, "It's not a question of whether we do social media, but how well we do it.", which clearly shows how popular social media has become in the past decade. So it is always wise to somehow incorporate social media into your web pages. You can encourage your friends and followers on different platforms to visit and link to your website. And needless to say, linking your social media profiles to the web pages and posting them on platforms like Instagram, Facebook, Twitter, etc., can significantly boost your traffic and conversion rates.
● Customer Reviews Section
Almost every major eCommerce site features a customer review section at the end. It is one of the most integral parts of those sites because it tells the manufacturers or sellers what might be the issues with their products. It also shows the customers that the sellers and manufacturers are willing to address their concerns. Also, other customers can check out the positive reviews, which might convince them to purchase the product. That's why SEO services recommend putting customer review sections at the end of the websites.
● Create High-Quality Backlinks
Google considers backlinks among the three most important factors in search engine ranking. A few things to remember when posting and creating backlinks are:
The backlink should be from a trusted and authorized source.
Your targeted keywords must be present on the backlink web page.
The contents in the backlink web page must be in some way related to your web page.
Heaping these factors in mind would help you rank well on the search engine result pages. If you have some doubts, you can hire SEO experts or consult an eCommerce development company.
Don'ts of eCommerce SEO
Here are the things you should avoid in order to improve the SERP rankings:
● Keyword Stuffing
Keywords are one of the most integral parts of SEO. They can help web pages reach higher rankings. But sometimes, people tend to go a little overboard with keyword insertion. Stuffing too many keywords may result in some massive issues like lousy user experience, loss of users (users may get frustrated due to too many obvious-looking keywords), and damage to the brand. Since Google is quite strict about keyword stuffing, if found guilty, your site may even be taken off the SERPs.
● Duplicate or Copied Product Description
If you have a product-based website, then the description is almost the most significant part of it because it helps the customer determine whether or not they are not looking for that exact thing. But sometimes, people completely copy the description from another site. Not only is it plagiarism, which is frowned upon and damages the rankings, but it also damages the brand image. So make sure you don't copy the product description from another website. Instead, hire the best white-label digital marketing agency, as they will help you with the product's most accurate and well-written description.
● Automated Optimization
Web page optimization is crucial to stay at the top of the search engine result page. But you might not want to automate this process as you may end up with dynamically populated product pages with just the product name and brand name, which won't be good. Rather than automating this process, add targeted keywords along with unique title tags and meta descriptions.
● Poor Call-to-action
If you are a product-based enterprise, CTA or call-to-action is one of the most significant aspects of your web pages as it determines the conversion rate. CTA helps customers with vital information: where and how they can buy your products and services. If the CTA is weak or missing entirely, it will not drive sales and revenue, which kinda beats the purpose of having a website in the first place. So ensure the call-to-action is well-defined, as it will increase their sales and ROI.
● Forgetting Mobile Optimization
More than 60% of people around the world prefer shopping on their phones. So not optimizing your website for mobile users will be a massive mistake. If your website doesn't open on mobile properly, the users might skip to the alternative pages in mere seconds without batting an eye.
● Neglecting Local SEO
Although online, so many people are always looking to shop from the stores near their location as which means they have a chance to check out the product in person before buying. Moreover, they think the product might be delivered to them faster than usual. But stopping or neglecting local SEO might result in completely avoiding the customer base near your location. So do not neglect local SEO.
● Spam Backlinks
As mentioned above, Google confirms that verified backlinks are one of the three most important aspects of SERP rankings. But there is a disclaimer that comes with this information. The backlink you add to your web page must be from a verified website, not a spam link farm. If Google or any other search engine identifies it as a spam link, it may actually backfire on your SEO strategy. So be careful not to add spam backlinks.
Make sure you remember the don'ts as well as the dos to ensure the best results from your SEO strategy.
Conclusion
eCommerce SEO is one of the best ways to sell your products and services through Google and other search engines. But be sure to remember the above-mentioned dos and don'ts at all times. SEO experts will help ensure your web pages are ranked high for a long time, generating higher sales and revenue.