I'm sure you've come a long way since starting your dream business. The majority of the work happens between the stages of starting small and growing large. So it's now or never to move to dedicated hosting.
I'm also well aware of the reality. That's why you've arrived here. Two of the causes could be a lack of understanding of MilesWeb and whether or not dedicated hosting is the best option.
Don't be concerned! I'll make sure you get everything you need to know throughout this post. My MilesWeb Dedicated Hosting Service review will tell you everything you need to know.
What Is Dedicated Hosting and Its Working?
The term "dedicated hosting" refers to the commitment of a full server to your website.
The output is obviously the best because you have the entire server in your hands. Your website receives all of the resources. A cheap dedicated server is very useful if you have a lot of traffic on your website.
You can host many websites without any problems. It also assures a level of privacy and security that other hosting services may not match.
MilesWeb has a 99.99 percent uptime. Compared to other hosting providers, the company offers dedicated hosting at a lesser price. While most hosting companies charge exorbitant prices, MilesWeb makes it affordable for customers.
The plus side is that you may get a refund if they don't live up to your expectations, as they offer a 30-day money-back guarantee.
We weren't sure if they'd be able to give us quality services when we bought their dedicated hosting package. We just saw it on Google and decided to give it a shot. Looking back, we can see that it has been a fantastic ride.
You've probably noticed how quickly this website loads. It is because of the heavy-duty dedicated server that serves us consistently.
Here are the features that make it worthwhile to purchase.
The flexibility of the server
You may have the entire server to yourself using MilesWeb. You become the single owner and have complete control over the property. You are free to host as many websites as you like.
Not only that, but you also have complete control over the customization, configuration, and installation of any web application. The dedicated server allows you to access the server from anywhere in the world over the internet.
Root Permissions
You gain root access with MilesWeb dedicated server, which gives you complete control over your server. It also allows you to install essential web applications. And lets you do any activity or monitoring you want.
Ensures a High Level of Reliability
With the dedicated server, MilesWeb ensures reliability. Because there is no shared user, it provides better uptime and security, leading to no restrictions.
You can host as many websites as you wish, as I previously stated. You can also migrate your websites to MilesWeb's dedicated hosting from reseller hosting, shared hosting, and cheap Linux VPS hosting.
Panel of Control
MilesWeb provides the most user-friendly control panels to make managing your dedicated server a breeze.
Pricing and Plans
Plans Range From Rs. (8,740) 6,999/m to 47,000/m
1 Dedicated Server
Bandwidth Expandable up to 5 TB
Get Up to 256 GB Memory
99.995 Uptime (SLA)
Up to 40 Cores + HT
Multiple Operating Systems To Choose From
Add On Managed Dedicated Server
MilesWeb offers 16 distinct dedicated server plans, ranging in price from Rs. 6,999 per month to Rs. 46,999 per month. You can check them out and pick the best one for you.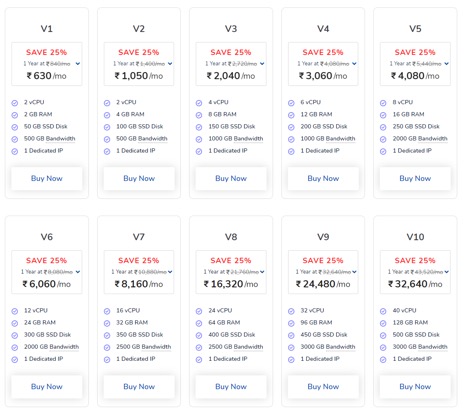 What Is The Difference Between A Managed Dedicated Server And A Self-Managed Dedicated Server?
Managed Dedicated Servers
A managed dedicated server is one that you do not have to manage yourself. MilesWeb's team will do it on your behalf and take care of all server management processes. The customer service team is available 24/7 to assist you and provide a pleasant experience.
By default, all dedicated plans from MilesWeb are unmanaged. It is an add-on service if you wish to have a managed dedicated server. You can contact the sales department for the same, and they provide you with pricing and plans for managed dedicated hosting.
Key Points –
1. Control panel configuration and installation
2. Web application installations
3. Full human support
4. Security and Protection
5. Free server set-up
6. No limitations to email tickets and chat support
If the plans on their website don't fit your company's needs, you can contact their sales staff for a custom plan at a reasonable price.
MilesWeb excels at meeting the needs of company websites, so you can relax and allow them to assist you in growing your online business globally.
Last but not least,
We weren't expecting MilesWeb to be as productive as they were. I said the same thing at the outset. We had only given it a shot, but their services surprised us by assisting us in multiple ways.
They provide low-cost, high-quality dedicated servers and offer customized servers if their standard plans do not meet your demands. They get a 9.8 out of ten. So, if you've been in business for some time and want to move to better hosting, I recommend MilesWeb dedicated servers.
Related Posts